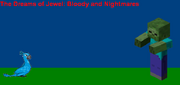 At the place of Rio, all the dark appears and the sun was gone. Jewel herd that a noise appears and the flower sound saw them but broke it.
People/Characters
Edit
Here Comes the Nightmare!
Jewel Meets Blu Again!
Pinga, Marth and Roy are the only people that are in the prison but escaped and finally they died.
Ad blocker interference detected!
Wikia is a free-to-use site that makes money from advertising. We have a modified experience for viewers using ad blockers

Wikia is not accessible if you've made further modifications. Remove the custom ad blocker rule(s) and the page will load as expected.