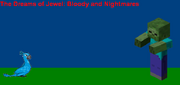 At the place of Rio, all the dark appears and the sun was gone. Jewel herd that a noise appears and the flower sound saw them but broke it.
People/Characters
Edit
Here Comes the Nightmare!
Jewel Meets Blu Again!
Pinga, Marth and Roy are the only people that are in the prison but escaped and finally they died.