Characters/People
Edit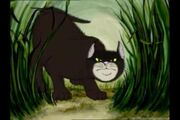 1.0 - Game started
1.1 - Add new animals, humans, etc. into the game
1.2 - Add items and coins
1.3 - Backgrounds can now have effect
1.4 - Add lives, the game over screen and can save the game
2.0 - Add water, lava and blocks can be now place or destroy
2.1 - Add food, health, hunger and minigames
2.2 - Add
Lynley Dodd: Hairy Maclary, Scarface Claw and friends are back!
Hairy Maclary: Woof! (Yeah!)
Lynley Dodd: Which one who was there? Ogawa Saki? Yes it was!
Ogawa Saki: Cause you are very bad at the cats and Scarface Claw! (speaks Japanese)
Scarface Claw: Meow! (You f**k Ogawa Saki!)
Lynley Dodd: Give us our fail!
Female Voice: Yes! They failed for the first time! CUT!
(cameras off)
(Hairy Maclary theme)
Scarface Claw: Meow! (What are you doing?)
Miss Plum: Are you going to space.
Scarface Claw: Meow! (Yes! I do!)
Lynley Dodd: Who is out in space? Who is in another planet?
(Angry Birds Space theme)
Lynley Dodd: It is in Scarface Space!
Female Voice: Coming on PC, iOS and more!
Ogawa Saki also appears in this game but she will attack Scarface Claw.
Ad blocker interference detected!
Wikia is a free-to-use site that makes money from advertising. We have a modified experience for viewers using ad blockers

Wikia is not accessible if you've made further modifications. Remove the custom ad blocker rule(s) and the page will load as expected.