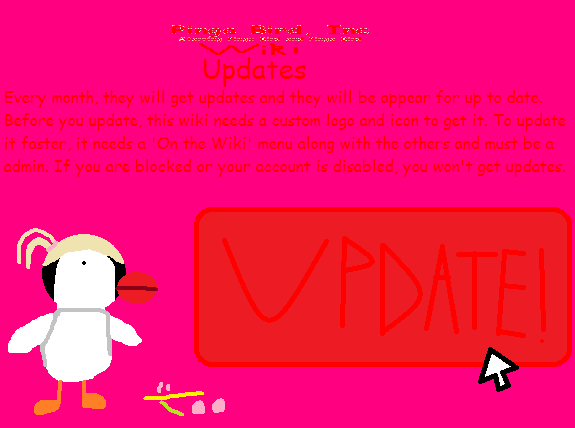 Every month, they will get updates and they will be appear for up to date.
Current Update
Edit
July 2012 - The badges will be able to return soon.
Previous Updates
Edit
June 2012 - Removes badges.
May 2012 - None.
April 2012 - None.
March 2012 - The Live and Chat has came out to chat.
February 2012 - Adds message wall and chat.
January 2012 - Adds new features.
December 2011 - None.
November 2011 - None.
October 2011 - Wiki has been created and launched and also adds a background.
Upcoming Updates
Edit
August 2012 - Adds more new pages.
September 2012 - The wiki will turn purple!
October 2012 - The wiki has turned back to pink and also the 1st birthday has came out and also adds a new channel page called "The Gang Channel".
Ad blocker interference detected!
Wikia is a free-to-use site that makes money from advertising. We have a modified experience for viewers using ad blockers

Wikia is not accessible if you've made further modifications. Remove the custom ad blocker rule(s) and the page will load as expected.