There are all the list of characters from
PayPay (series)
.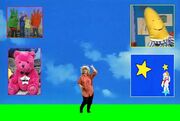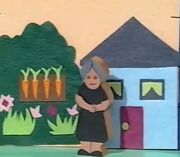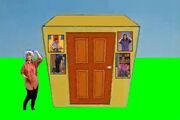 Party Members
Edit
Colin
George
Angela
Trisha
The Great Sword Members
Edit
Red Swordman
Orange Swordman
Yellow Swordman
Green Swordman
Blue Swordman
Baka Pitch
Banana
Poka King
The Banana Minons
Silly Clown (maybe a helper)
Duke Ted
Topo Ted
Clone PayPay
Robot Bros. (Red, Orange, Yellow, Green, Blue, Purple and Pink)
Copassion Buchanan
Team Buffalo
Jiggy Ted
Piggy Ted
Kley Ted
Yoko
Robot Ted
Reloy
Little Ted Jr.
Classmades
Grandma Sakma
Bear Enemies
Edit
Bears
Teddy Bears
Robot Bears
Undead Bears
Winged-Bears
Bumper Bears
X-Ray Bears
Ball Bears
Spinning Bears
Lava Bears
Bug Enemies
Edit
Flies
Butterflies
Bees
Beetles
Mario Enemies
Edit
Goombas
Koopa Troopas
Paragoombas
Paratroopas
Hammer Bros.
Chain Chomps
Spikes
Buzzy Beetles
Cheep Cheeps
Boos
Bloopers
Bob-ombs
Dry Bones
Shy Guys
Fly Guys
Robot Enemies
Edit
Mecha Robots
Rainbow Robots
Swordman Robots
Hammer Robots
Misc. Enemies
Edit
Giant Shy Guys
Joker Fuys
X-Ray Duys
Presenters
Toys
Maka Pitch
Baka Pitch's Parents
Ad blocker interference detected!
Wikia is a free-to-use site that makes money from advertising. We have a modified experience for viewers using ad blockers

Wikia is not accessible if you've made further modifications. Remove the custom ad blocker rule(s) and the page will load as expected.