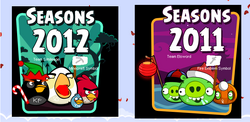 Characters and Voice Actors
Edit
(you can add people if you want)
S/mileage Team (Good Guys/Birds/Angry Birds)
Edit
Wada Ayaka as Red Bird
Maeda Yuuka as Blue Bird
Nakamishi Kana as Yellow Bird
Fukuda Kanon as Black Bird
Ogawa Saki as White Bird
Takeuchi Akari as Boomerang Bird
Katsuna Rina as Big Brother Bird
Tamura Meimi as Orange Bird
Elexpolorers Team (Bad Guys/Pigs/Bad Piggies)
Edit
Episodes (Battles)
Edit
The Battle Begins
Winners (Birds or Pigs)
Edit
The Battle Begins - Birds
Special Tricks/Powers
Edit
Ayaka - Nothing; says "Caw Caw" or "Gnaah" (Red Bird only).
Yuuka - Multiplies into 3, and each clone is bumped slightly up or down.
Kana - Gains more speed (its speed becomes equal to a certain speed, no matter what speed it was moving before) and makes a more of a high pitched sound than before.
Kanon - Able to explode in mid-air or on impact.
Saki - Drops an egg which then explodes (White Bird only). The bird itself becomes shriveled and is propelled fast upwards and to the right. The body still collides and can be used as a powerful Red Bird.
Akari - Opens its beak to fly the opposite way than it was heading, maintaining the same speed and vertical direction (Bommerang Bird only).
Rina - Same effects as the Red Bird (Big Brother Bird only). (Exeptions: Moans, and breaks through anything except ground.)
Meimi - Expands to huge size, like a balloon. After impact, it deflates (Orange Bird only).
Most of the birds and pigs gave a S/mileage trans and Elsword trans except for Blu, Jewel, Mighty Eagle and Mighty Dragon who wants to mixed trans. Fuyuka doesn't have a Angry Bird tran as well.